I'm not sure if I should credit Kelly Wearstler for bringing back Le Dome Chairs aka Balloon Chairs, but they are just super cool. Also known as a Porter's chair, it was originally used in medieval England and later France. It was placed by the front door of an estate or home for use by a gatekeeper servant who was in charge of screening guests and visitors. Since there were often cold breezes near a front door, the chair was designed to envelop and keep the servant relatively warm in his task of remaining at the door for long periods. Reproductions abound and they come in all sizes, colors and textures. I think with chilly days soon approaching, the idea of snuggling into one of these cocoons sounds nice!
This bedroom designed by Fawn Galli featured a soft green le dome chair and graced the House Beautiful March issue.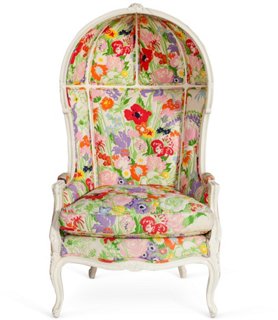 One Kings Lane featured Kelly's Floral Le Dome chair back in June!
Check out this zebra print pair.
These feel more delicate with open sides and delicate legs.
Horchow has several options to pick from. 
The Room Service Store has a ton of options...this is in a pretty soft blue green.